Five Places Where Portable Sinks Are a Must
Portable sinks are useful in many situations, and beyond useful in even more everyday locations. Because of their compact size and cost, they are great assets. If you are wondering where portable sinks can be useful, the answer(s) are many and simple. There are five places where portable sinks are needed and where they can do the most good. And, while it is true that almost everyone can benefit from having a portable sink, these five places are even better suited to having them than others.
Schools and Daycare Centers.
Schools and daycares are always in need of cleaning solutions. Young children are constantly making messes and there are plenty of higher-level classes that require children to learn hands-on. In these situations, portable sinks are incredibly useful. Most classrooms do not have sinks for kids to use. Often, aside from schools that are newly built or science courses where it is important to have a washing station, teachers have to be conscious of the impact of lessons and the potential messes that can arise from certain activities. Have a portable sink in the classroom allows teachers more freedom with their lessons by allows kids to have more fun, without worrying about cleanup. And, of course, portable sinks serve an even more important purpose in these environments now than they did before the global coronavirus pandemic. The ability to keep students clean and sanitized throughout the day cannot be overstated, for it provides an extra barrier defense against germs and viruses. Indeed, portable sinks achieve a better clean than hand sanitizers do, and they can be easily placed in the classroom. This can eliminate some of the worry associated with being in the classroom for those who have to be there in this current moment.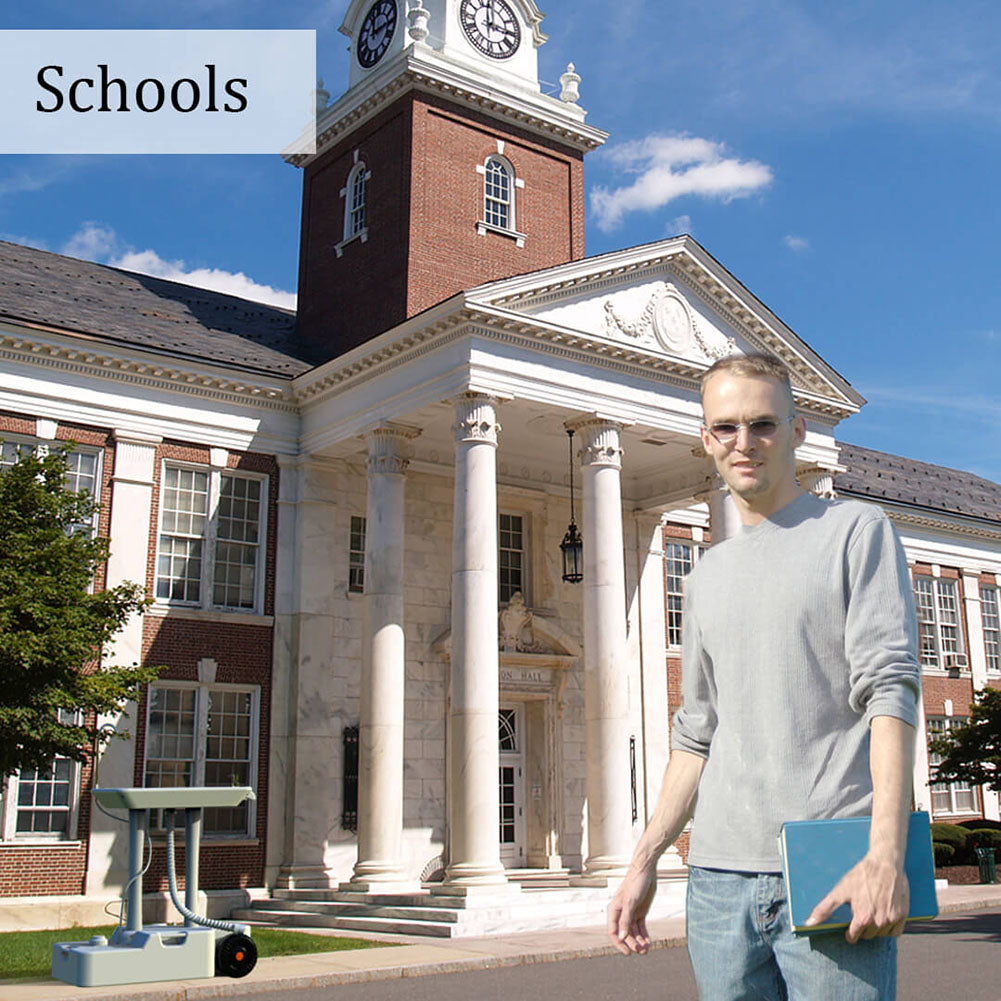 Churches.
Faith is important to so many individuals. It is a part of their weekly routine and it is an important part of life. Because church is such an integral part in the lives of many, it is important for most that it continues as normally as possible. Unfortunately, churches present logistical problems that are now necessary to consider due to the coronavirus. People often sit very close together, they share in the importance of their religion, and they even eat and drink together. Because of all of this close contact, church environments are in need of ways to keep people as safe as possible as they worship. Steps are already being taken, of course; masks are needed and distancing as well, but there is another step that can and should be taken to make worship even safer. That step is to purchase and utilize portable sinks. There is ample room in most churches for the little products to fit and be used, and they can be helpful for those who feel they need to go to church as part of their normal lifestyle. For these people and for the churches trying to operate as normally and safely as possible, a portable sink is a must have. They can be transported and integrated with ease and they are more effective for cleaning than other methods. Churches, more than most places, are great for using portable sinks for their patrons.
Farms.
Farms are great spaces to use portable sinks. Beyond the current climate, farms are places where grime and messes are commonplace. Farmers are responsible for doing a lot of hard work, work which is neither clean nor easy. For these reasons, it is important for them to not only be clean outside of their work, but to feel clean and to be able to know that they are properly organizing and dividing their work from their lives. There is no product that is better at helping achieve such organization than portable sinks. Portable sinks are beneficial on farms because they can be easily transported, and they are capable of lasting for long periods. And, indeed, portable sinks can be used for days at a time without having to have a change of water. In essence, farmers can purchase them for an affordable price and then use them without having to worry about maintenance. They are making farming easier and simpler, they are helpful for guests and events, and they are even more useful now than they were before.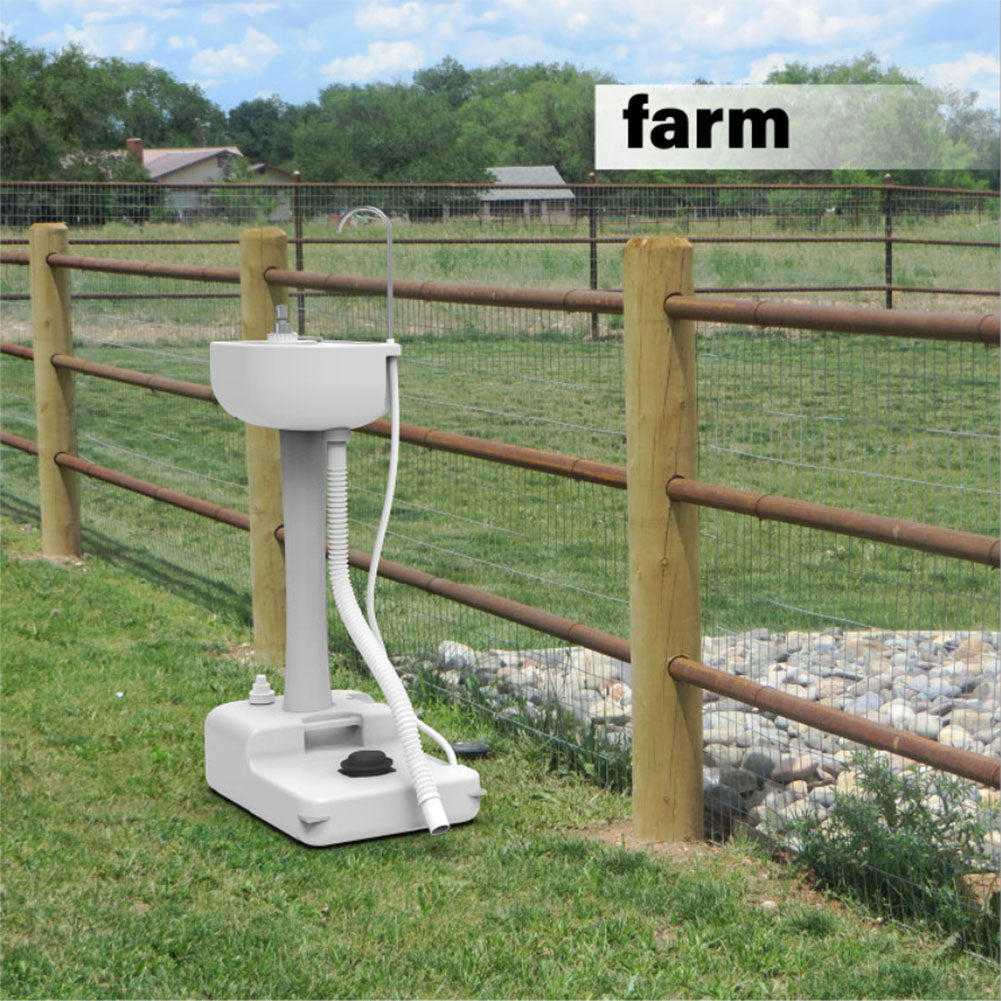 Outdoor Weddings.
The day of your wedding is likely the most important day of your life; certainly, it is one of the most important, at the very least. That is why it is necessary that everything goes as smoothly as possible. Unfortunately for the thousands of couples who are faced with getting married during the time of COVID, the virus has made indoor weddings a thing of the past and large gatherings unsafe without masks and proper safety techniques. This leaves many couples feeling stressed about what to do. Fortunately, outdoor weddings can be saved in part by portable sinks. They are cost-effective and easily transportable, and they can help make the group in attendance sure they are all sanitarily indulging in food and the wedding experience. Portable sinks help keep people safe at outdoor weddings and can help ensure that the married-couple-to-be has a successful and germ-free day.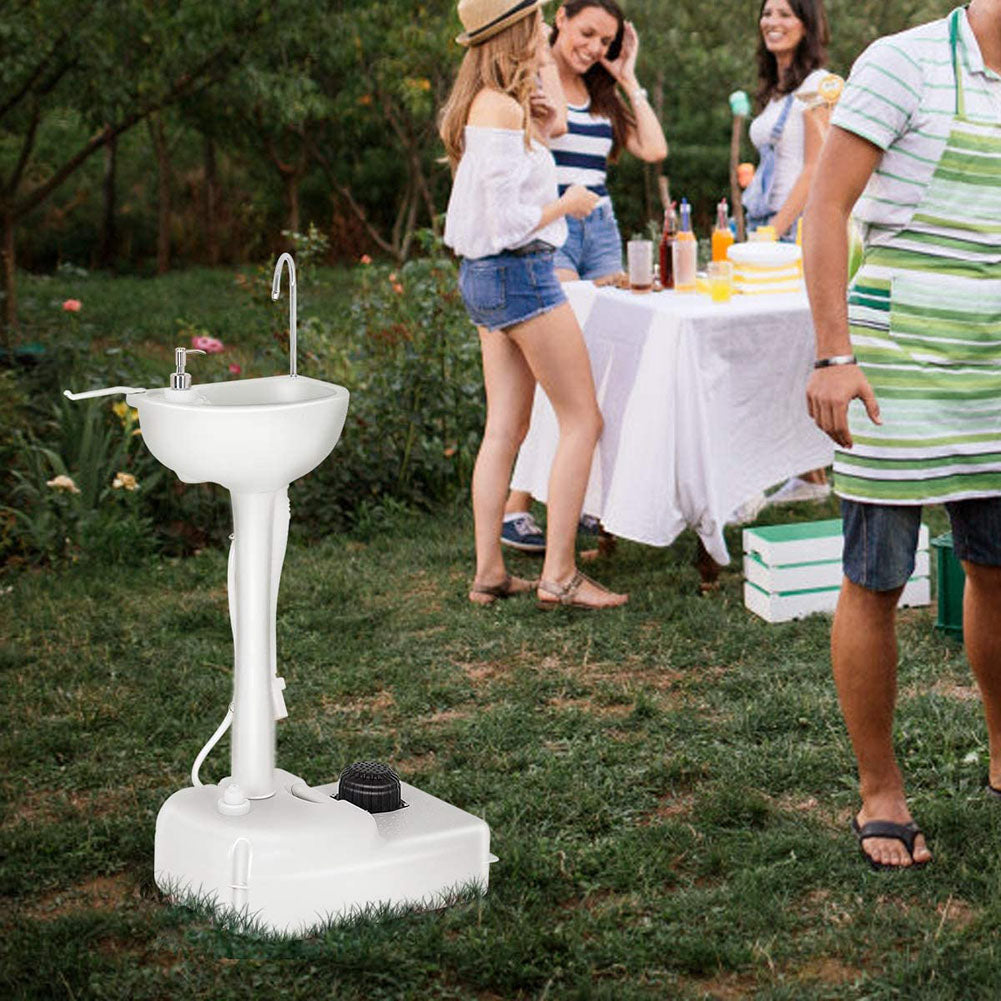 Remote Worksites and Construction Zones.
Remote worksites and construction zones can greatly benefit from having portable sinks. Even though these places are not as crowded as other areas, there are other safety risks that can be lessened by having portable sinks available for workers. For example, construction sites especially are dangerous places where people can be easily injured. In such situations, portable sinks can help make sure that workers are safe and clean and not at risk of being harmed by their jobs. In these hectic environments, the ability of portable sinks to be placed and transported nearly anywhere is also incredibly valuable for individuals.
These five places are not at all the only places where portable sinks can be used. On the contrary, portable sinks should be utilized in almost any environment where people are regularly gathering or where there are risks of safety. These five places, however, are great candidates for portable sinks. Construction zones, outdoor weddings, farms, churches, and schools are in need of hygienic solutions at this time, and portable sinks, especially those from Tidohome, can provide such solutions. They are products that make life easier and safer, and they should not be taken for granted. In truth, portable sinks are getting better and better and the newer models are so useful that, once purchased, you wonder why you never got one earlier for your home, classroom, work site, or other environment.